Postoperative care after orthognathic surgery

At Maxillofacial Institute we offer customized postoperative care to our patients operated of maxillofacial surgery,  including physiotherapy, hyalotherapy and lymphotherapy masks, in order to optimize their recovery.
What are the benefits of each of these techniques?
The techniques of manipulation and / or mobilization that the maxillofacial physiotherapist practices to diagnose and treat soft tissues and joint structures allow to:
Alleviate pain.
Increase the range of movement.
Reduce or eliminate inflammation of soft tissues.
Induce relaxation.
Improve the repair of contractile and non-contractile tissues, their extensibility, and / or stability, facilitate their movements and improve function.
Hilotherapy Mask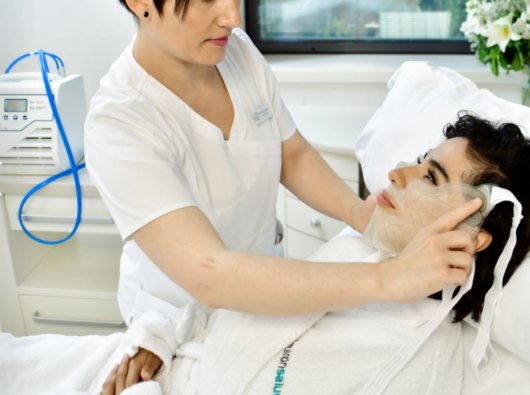 The Maxillofacial Institute has introduced in Spain the use of hilotherapy masks to reduce inflammation and postoperative hematomas of the orthognathic surgery patient.
The hilotherapy consists in the application of an isothermal treatment by means of a device that regulates with precision the facial temperature in the patients who underwent maxillary, mandibular and bimaxillary surgery. The operation of this device is based on the existence of a face mask with a closed circuit through which water at a constant temperature flows continuously .
This treatment allows to maintain a constant low temperature in the operated zone. The benefit obtained is a decrease in inflammation, in pain and in the need for analgesics after maxillofacial interventions.
Lymphatic drainage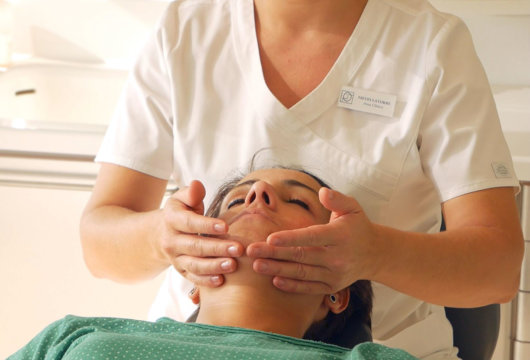 It is a physiotherapeutic technique that acts directly on the lymphatic vascular system and the human autonomous nervous system improving the cleaning and circulation of extra and intra cellular fluids regenerating in the human body; skin, muscles, glands and in general conjunctive or connective tissue.
Our nurses at the Maxillofacial Institute perform lymphatic drainage to all patients operated of maxillofacial surgery.