Although orthognathic / orthofacial surgery is a very serious procedure, the reality is that in recent years it has gone from being a rather long and traumatic surgery for the patient, to a much rapid procedure carried out using minimally invasive techniques that make the recovery process is considerably less uncomfortable than it used to be.
After many years of experience and countless orthognathic surgery patients, at Instituto Maxillofacial we can say that we know quite well the process our patients go through after surgery.
The first aspect to note is that it is very common for patients to refer less pain than they expected, in a large majority of cases the pain is perfectly controlled by the medications that we provide in our center, and some patients do not even need strong analgesics.
At the Maxillofacial Institute, the recovery process from orthognathic surgery follows some very specific steps: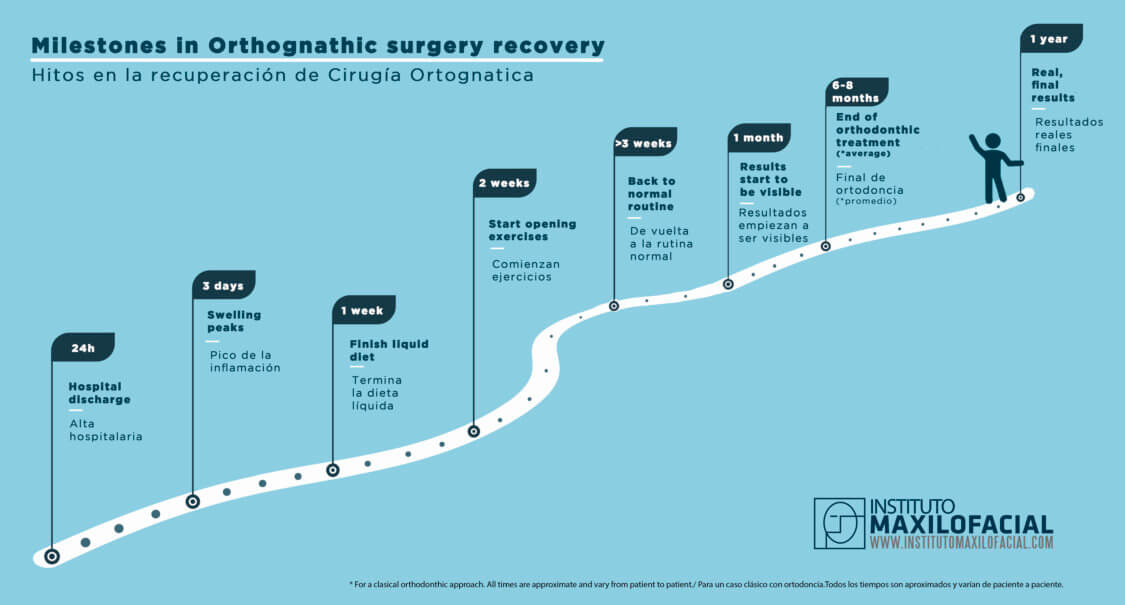 After the surgery is complete, our patients go up to their hospital room with a hilotherapy mask on. This mask maintains a cold and constant temperature that will help fight pain and inflammation during those first moments.
Afterwards, each patient's assigned nurse performs a gentle lymphatic drainage massage, which has a relaxing and anti-inflammatory effect.
Later, dinner (fully liquid diet) is served  and the patient is prepared for the night. At this point all medication is intravenous, so there is no need to worry about taking any medication.
The next day there is a second visit from the assigned nurse, who performs a second lymphatic drainage massage and gives the patient a bag containing their medication, the guidelines for taking it, and other items necessary for their hygiene and care for the next few days.
It might interest you: Postoperative care at Maxillofacial Institute
The next step is discharge from the hospital, after which the patient has a consultation with their surgeon to discuss their surgery and recovery from it. During this same visit, the patient is taught how to perform their hygiene at home, as well as the exercises to do for a better recovery, and a day and time is set for their next control visit.
Once at home, the patient will have support materials in various formats (printed and audiovisual) in addition to direct contact with their assigned nurse, to clarify the doubts and questions that arise in the process.
It is important to know that inflammation will reach its maximum level on the third day after surgery, and from then on it will begin to decrease and the patient will be much more comfortable.
During the first week, the patient can consume an exclusively liquid diet. Unlike some centers, our patients do not have their mouth blocked shut with rigid wire, but with removable rubber bands, so they can open and close their mouth as much as possible and remove their rubber bands to eat / clean themselves.
In the second week, patients switch from a liquid diet to a soft diet, and they should start with their opening mouth exercises, gradually increasing their intensity, as well as maintaining good physical activity.
A good part of our patients return to their normal routine between the third and fourth weeks after surgery, taking care at all times not to make excessive efforts and / or contact sports, and integrating solid meals little by little until they reach a normal diet. .
After a month, the most noticeable inflammation will have disappeared, but it is important to know that there is still residual inflammation, which makes the lines of our face look poorly defined and we cannot laugh or gesture normally. This is completely normal, as well as having numbness in some areas of the face (especially the mouth) that will gradually "wake up".
Depending on each case, braces are removed approximately 6-8 months after surgery, once the bite is in its ideal position, and completely stabilized.
To really appreciate the real results of the surgery, it is necessary to wait between 10 and 12 months, until the inflammation disappears completely and the lines on our face reappear.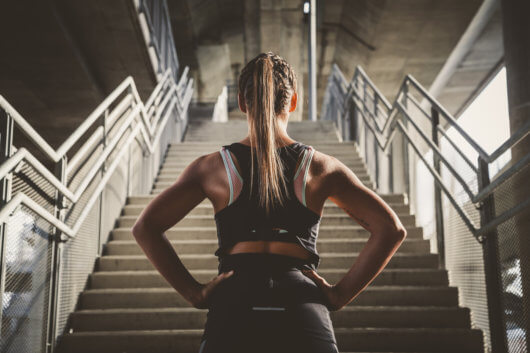 In summary, for the vast majority of people the recovery process after orthognathic or ortofacial surgery is not a traumatic or painful process, but it is one that requires a lot of will to cope with the most stressful moments, and patience to wait for the moment when that we can finally see our final results. Call us at +34 933933185 or write to international@institutomaxilofacial.com if you want more information about orthognathic / orthofacial surgery in our center.
Related content:
I don't like my face after my orthognathic surgery
How to reduce swelling after orthognathic surgery
Top 9 essentials for your postoperative recovery